May is National Salad Month and we couldn't think of a better way to celebrate than sharing the Machine Shed's BBQ Brisket Salad recipe. Try it at home or stop into the Shed and give it a try! You can also find this recipe, along with many other Shed favorites in the Machine Shed Cookbook – available in the gift shop!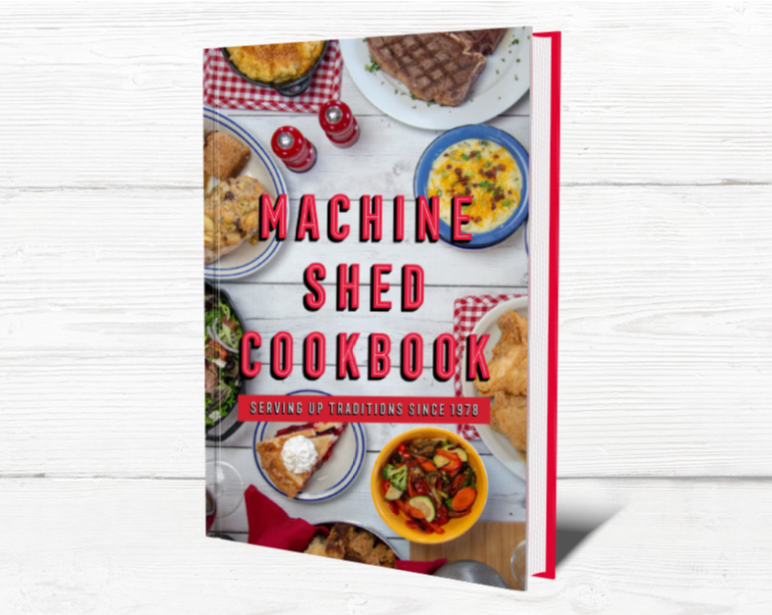 Machine Shed BBQ Brisket Salad
Ingredients:
½ cup spring mix
6 cherry tomatoes
2 tablespoons red onion, sliced
¼ cup large diced cooked bacon
4 slices of brisket
¼ cup BBQ sauce
2 tablespoons queso fresco, crumbled
Directions:
In a large bowl combine the first five ingredients and toss until they are evenly coated with dressing.
Slice the warm brisket and cover with BBQ sauce.
Place the brisket on top of the salad and crumble the queso fresco on top.
Machine Shed Brisket 
Ingredients:
2 cups Machine Shed BBQ sauce
1 ½ cups brown sugar
10 pounds beef brisket
Machine Shed BBQ Spice Ingredients:
1 tablespoon salt
2 tablespoons black pepper
1 tablespoon cayenne pepper
2 tablespoons cumin
4 tablespoons chili powder
2 tablespoons garlic powder
4 tablespoons paprika
2 tablespoons thyme
2 tablespoons oregano
2 tablespoons sugar
Directions:
Mix together Machine Shed BBQ spice ingredients; add the brown sugar until well blended.
Place the beef brisket on a cutting board and completely cover all of the brisket with the BBQ spice mixture. Add the hickory wood to the smoker.
The brisket will smoke 12-14 hours reaching a temperature of 170 degrees. Add extra wood as necessary.
When the brisket is completely smoked, remove from smoker and cut the deckle away from the top side of the brisket. The flat will be used for more entrée pieces while the deckle can be used for sandwiches. Slice the brisket across the grain and as thin as possible.
Top with BBQ sauce when plating.