Discover the perfect blend of sweetness and seasonal charm with these chocolate acorn treats. These charming delights only take a few minutes to whip up and serve. Unleash the cuteness and deliciousness to make this year's sweet moments truly special!"
What you will need:
Mini Nilla Wafers
Milk Chocolate Chips
Hershey's Chocolate Kisses
Small Ziploc Bag
Directions:
Start by unwrapping the Hershey's kisses. One acorn takes one Hershey's kiss, so unwrap however many you would like to make.
Melt ½ cup of your chocolate chips by putting them in a microwave-safe bowl and putting them in the microwave for about 40-50 seconds. Continue to microwave them in 10-second intervals until they are completely melted. The easiest way to do the next steps are going to be to put your melted chocolate into a small Ziploc bag and cut a small piece on one of the bottom corners so that you can pipe your chocolate.
Pipe a small amount of your melted chocolate and put it on the center of the bottom of your wafer. Take one of your unwrapped kisses and press it onto that melted chocolate. Give them a few minutes to let the chocolate harden.
Repeat the last step but on the top of the wafer and use one of the chocolate chips rather than the Hershey's Kiss.
You should now have yourself the perfect acorn treat!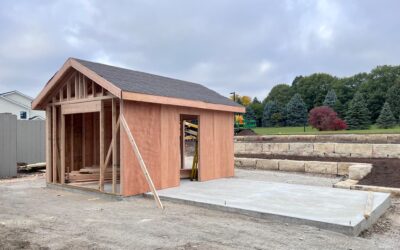 Just last week, our construction team began working diligently on the construction of The Coop, a new feature for The Machine Shed in Urbandale. Along with the apple orchard and cascading waterfall that is under development, The Coop will become a centerpiece among...
read more